Caprese Salad Stacks
Love salad? Have you tried it stacked?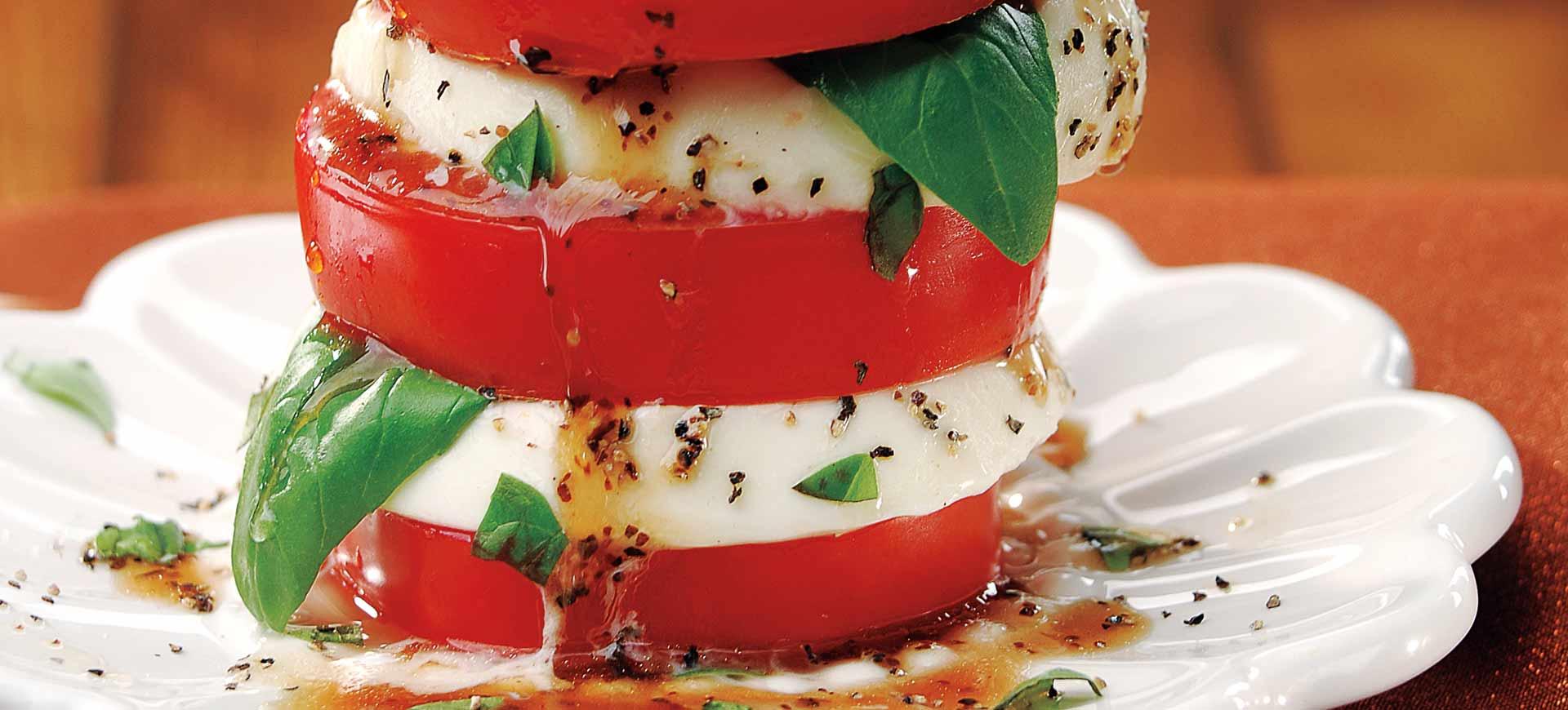 Ingredients
3 large tomatoes
2 (8 oz.) balls fresh mozzarella cheese
1 pkg. fresh basil
1/4 cup balsamic vinegar
3/4 tsp. salt, divided
3/4 tsp. freshly ground black pepper, divided
1/4 cup Schnucks extra virgin olive oil
Instructions
Trim off thin slice from top and bottom of tomatoes to make flat surface. Cut each tomato into 4 slices. Cut each mozzarella ball into 4 slices. From basil sprigs, remove 8 large leaves and pick off top portion of 4 sprigs for garnish. Coarsely chop remaining basil leaves. In small bowl, with whisk, stir together vinegar and 1/4 teaspoon each salt and pepper. Slowly whisk in oil until vinaigrette is emulsified.
To assemble salad stacks, on 2-foot-long sheet waxed paper, arrange tomato and mozzarella slices in single layer. Sprinkle with chopped basil and remaining 1/2 teaspoon each salt and pepper. On each of 4 salad plates, starting with tomato, alternately stack tomato and cheese slices with 1 basil leaf over each slice of mozzarella. Drizzle 2 tablespoons vinaigrette over stacks. Garnish with basil tops.
---
Nutrition Facts
476 Calories Per Serving
Fat: 38g
Saturated Fat: 18g
Cholesterol: 88mg
Sodium: 574mg
Carbohydrates: 9g
Fiber: 2g
Protein: 21g
Actual nutritional values may vary depending on specific ingredients used and/or modifications to the recipe