Blueberry French Toast Bake
This breakfast bake is berry delicious.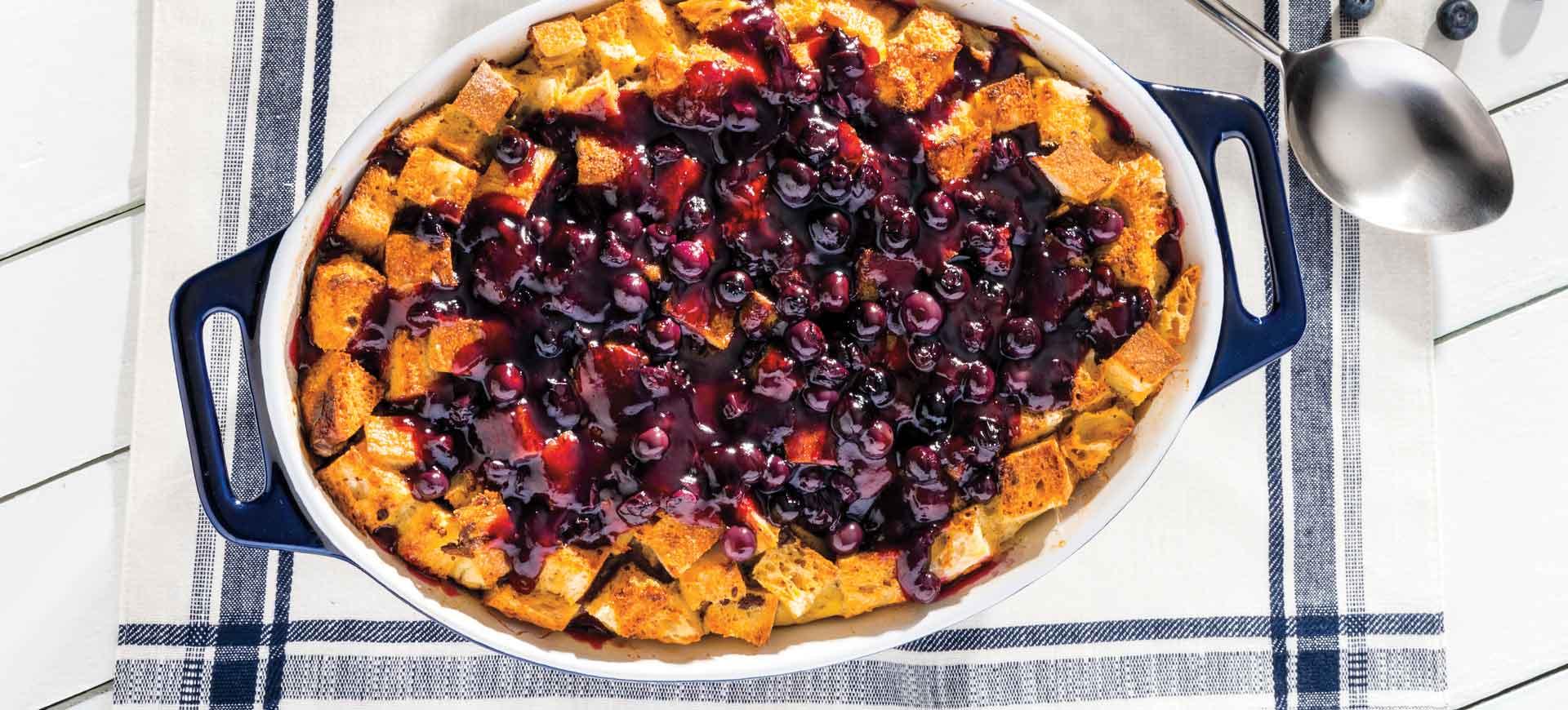 Ingredients
12 Schnucks large eggs
2 cups Schnucks half-and-half
1/3 cup Schnucks pure maple syrup
1 tbsp. lemon zest
2 tsp. Schnucks ground cinnamon
1 1/2 tsp. almond extract
16 oz. loaf day-old sourdough or French bread, cut into 1" cubes
2 (8 oz.) pkgs. Schnucks cream cheese, cut into cubes
2 (6 oz.) pkgs. Driscoll's® blueberries, divided (or unthawed frozen blueberries)
1 cup lightly packed Schnucks brown sugar
2 tbsp. cornstarch
1 tbsp. fresh lemon juice
1 tbsp. Schnucks unsalted butter
1 cup water
Instructions
In large bowl, beat eggs; whisk in half-and-half, syrup, lemon zest, cinnamon and almond extract.
In 13 x 9-inch baking dish, evenly spread half the bread. Evenly top bread with cream cheese and half the blueberries; top with remaining bread. Pour egg mixture over bread mixture; press down gently with back of spoon to submerge bread. Cover with aluminum foil and refrigerate overnight.
Preheat oven to 350°F; remove French toast from refrigerator and let stand 30 minutes. Bake French toast, covered, 30 minutes; uncover and bake 30 minutes longer or until top is golden brown.
Meanwhile, in medium saucepan, whisk together brown sugar, water and cornstarch; heat to boiling over medium-high heat. Cook 2 minutes or until mixture starts to thicken, whisking constantly. Reduce heat to medium-low. Stir in remaining blueberries; cook 4 minutes or until blueberries burst. Remove from heat; stir in lemon juice and butter. Pour blueberry mixture over French toast. Let stand 10 minutes before serving.
---
Nutrition Facts
342 Calories Per Serving
Fat: 17g
Saturated Fat: 10g
Cholesterol: 195mg
Sodium: 274mg
Carbohydrates: 33g
Fiber: 1g
Sugars: 18g
Protein: 10g
Actual nutritional values may vary depending on specific ingredients used and/or modifications to the recipe